And the long-awaited grand finale arrived. The EURO favorites duel was fulfilled, although Russia arrived more easily and without suffering the qualifying rounds, Germany had to overcome 2 consecutive defeats that complicated their classification on the last day. After the German trance, both Russia and Germany showed their power in the qualifying rounds, leaving no choice for their rivals and certifying all their qualifying rounds 4-1.

The final pairings left us with a fantastic and vibrant duel between probably the two fittest players on their teams, Someone_you_know and Nocebo. The duel did not disappoint with a passionate, tough and dramatic first match, which ended in a draw, but Nocebo won it by not being the first player of the match. It finished 2-0 for Nocebo in another disputed match.

The Sergt vs MeepleWizard duel was predicted level, as it was, but the result of the first game so bulky, made doubts about the possible recovery of MeepleWizard. He overcame himself and knew how to turn the duel around.
Navarre79 beat Mikhail-rus who, despite his attempts and efforts, could not find a way to overcome the GOAT of Carcassonne, 4 times world champion.

We do not know if Robert3333 double German champion did not have his day, or if he really 71st submitted him in an overwhelming way with a lightning and fast 2-0.
And how could it be, some controversy had to have this final. The duel between alenezavr and Karaboudjan went smoothly with the Teuton's clear dominance in the first game, and the second went the same way. But during the second game Karaboudjan crashed his computer while clearly dominating the game, and despite warnings from teammates and after 3 minutes of waiting, he was expelled from the game. He returned to continue in the same, but this was given for lost. The third and final game, with Germany already champion, Karaboudjan clearly off-center and angry at the exclusion of the previous game, succumbed to an alenezavr who did not hesitate to take advantage of the situation.
This last result adjusted the duel to the final 3-2 (7-6). With deserved victory for the German team.
We must highlight the subsequent fair play between the players of both teams, who despite the final tension, knew how to keep up.

The first 4 proved to be at a high level, but overall the level of the EURO has been excellent, with great games starring great players.
And so the EURO qualification ended.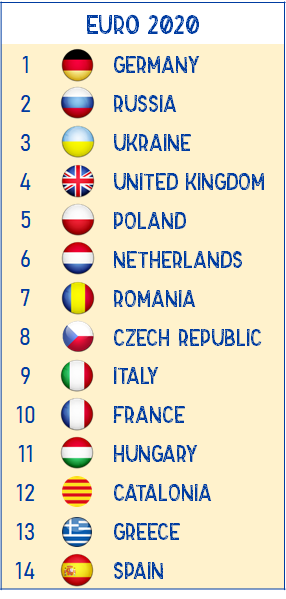 It has been a fantastic Euro with many surprises and also sounded disappointments. With teams that seemed out of the championship, but that have resurfaced and have achieved the feat of reaching the playoffs.
And best of all, of course, that we all come together to form a community and enjoy this fantastic game that unites us.
Thank you all for a wonderful EURO!